Adelaide saw the highest inflation of any Australian capital city in March, while housing affordability was a key focus of the South Australian budget, Senior Economist Melissa Wilson told a CEDA event last week.
"Our housing market is at a different point in the cycle, that's a key area of difference for us at the moment," Ms Wilson said.
"Adelaide dwelling prices have seen some of the largest cumulative increases since January 2022 of all the major capital cities."
"Having said that, we're not expecting much further from here."
Adelaide is now the tightest rental market in the country with a vacancy rate of just 0.5 per cent, further pushing up rents.
Ms Wilson said there was some housing relief in the SA Budget, including support for eligible first-home buyers through a reduction of stamp duty and a package to support more vulnerable households with more public and affordable housing.
"It's pleasing to see that there's been more emphasis on housing supply," she said.
"Governments are good at throwing money at housing, but what we really need is an increase in supply and more houses and more apartments built."
Ms Wilson said that cost-of-living relief also featured heavily in the Budget, especially energy-bill relief for households and businesses.
The cost-of-living crisis is starting to have an impact on retail spending, with South Australia performing less well compared to other states on spending in the recent CommSec State of the States report.
The quarterly ranking of economic performance placed South Australia equal second overall.
"Some of our strengths were in construction work done. We've had strong population growth and we've benefited from an inflow since COVID," Ms Wilson said.
"Where we are performing less well compared to the other states was around economic growth and retail spending," she said.
On the labour market, Ms Wilson said South Australia was still reporting robust employment figures.
"Traditionally our unemployment rates are a little bit higher than the national average. It's a little bit higher, but still very low at around four per cent," she said.
"We've enjoyed record levels of employment growth and participation in the labour force as well."
While productivity growth is low across the nation, South Australia has a particularly low estimate for multifactor productivity growth, the main measure of productivity, which is calculated as the ratio of output relative to the combined input of labour and capital.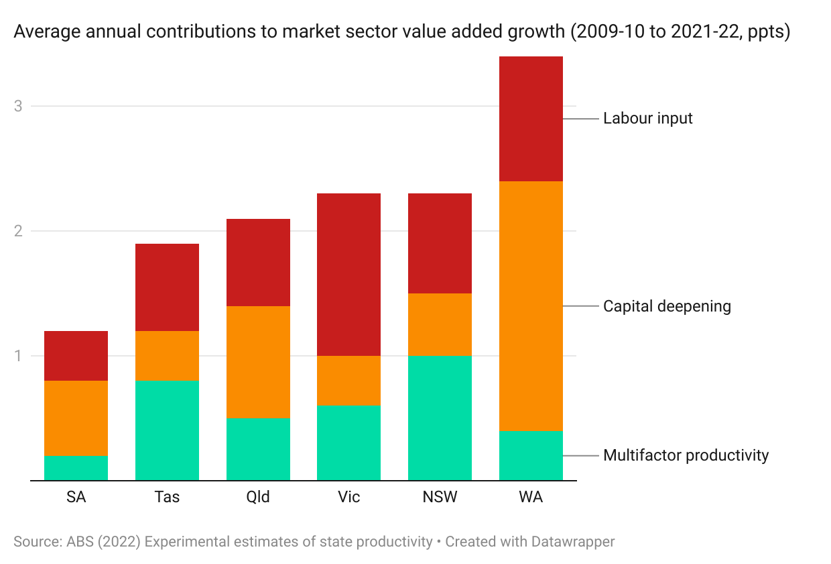 Ms Wilson said South Australia's weak productivity needs to be taken seriously.
"The South Australian Productivity Commission has made it quite clear recently that we're not an innovative state yet … on a range of measures," she said.