Business, through the adoption, use and governance of technology has an important role to play in earning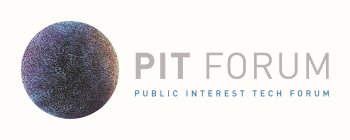 community trust and building confidence in the use of emerging technologies. AI provides an interesting and relevant case study.
Growth in the use of AI and machine learning is taking off, but as the experts in this session – Yoav Schlesinger, Principal, Ethical AI Practice, Salesforce and Bill Simpson-Young, CEO, Gradient Institute - point out business is still at a very early stage in the ethical AI journey, notwithstanding the proliferation of ethical principles and frameworks.
Both Yoav and Bill highlighted the challenge of operationalising ethical principles through AI design, development and decision making.
Yoav discussed Salesforce's focus on three pillars:
Employee engagement;
Product development; and
Customer empowerment.
Interesting initiatives discussed include employee boot camps to build an 'ethics by design mindset' among the 54,000-employee base, the establishment of an internal data science review board, and an Einstein admin tool to automatically identify sources of potential bias and proxies.
Yoav stressed the importance of distributed responsibility and empowering employees to be risk spotters, noting this is good for the employee value proposition and good for business. For Salesforce, trust is the most important value to develop with customers.
Bill agreed with this sentiment, noting that a significant challenge is matching competence and capability with ethical intent. The Gradient Institute is very focussed on mapping process to operationalise ethical intent and enabling this to be audited.
Bill highlighted the importance of ensuring that technical issues are exposed at a governance level so that trade-offs can be made at a policy or governance level and not at a technical level where there is little guidance on how to make those decisions. Too often those at the technical level aren't even aware of the impact of the choices they are making.
Bill also noted the need for an education revamp, with too many people having completed machine learning courses without learning about the adverse impacts, outcomes and risks that poorly designed approaches can produce. Either education has to change, or organisations need to consistently address this with new employees.
Perhaps most concerningly for those in business, Bill noted "it is easy to have systems that are not lawful." Business is on notice.
Bill drew on the example of the Australian census experience to highlight that you cannot outsource ethics. Procurement isn't about outsourcing responsibility it is about bringing in expertise and you must have enough capability inhouse in terms of technical and governance to be able to effectively challenge and oversee the project. In the case of the census, it was found that there was an over reliance on the vendor for technical expertise such that they were not providing adequate supervision of the work. Organisations need to ensure that expertise resides all the way to the board.
In addressing cynicism about business intent and use of AI (as exposed in our own poll question below), Yoav noted that the industry is definitely at the 'crawl' stage of ethical AI in practice.
At Salesforce, a focus on authentic stakeholder capitalism is seen to enable greater trust in experimentation and innovation. Similarly, diversity and inclusion help drive the right practices and outcomes and recruiting employees with diverse and multi-disciplinary skills supports this.
Watch the discussion




Poll question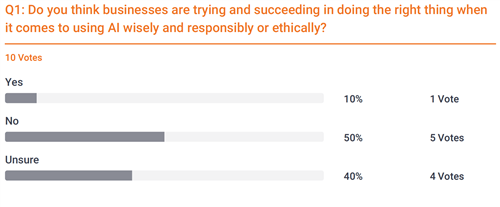 KPMG live-scribe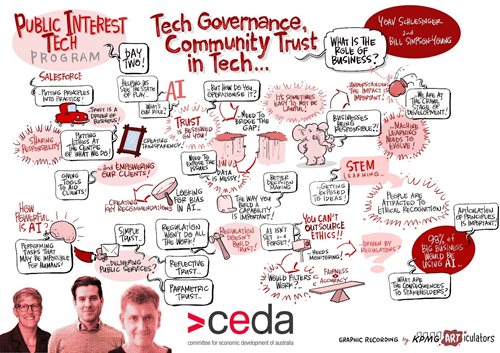 CEDA's PIT Forum was supported by our Foundation Partners: