Mr Porter was joined by ACTU Secretary, Sally McManus and Programmed Group Chief Executive Officer, Glenn Thompson, for a discussion on Australia's evolving labour market.
Mr Porter began by outlining the scale of the problem facing the economy.
"The reason we are all here on this panel and the reason the government has set up the working groups is that the enormity of the task we now face is at times difficult to comprehend. Anyone who thinks that what we have just experienced has created a set of circumstances that will right themselves quickly or easily is making a terrible mistake," he said.
"We've lost formally 600,000 jobs to date; we have seen 1.6 million people go onto Jobseeker, an increase of about 800,000 in recent months; and we now have over three million employees and 800,000 businesses participating in the Jobkeeper program.
"Obviously, some of the jobs that are being supported through what is effectively a wage subsidy are going to be sustainable, which we all hope for, but some of these jobs will not be sustainable in the long run."
Mr Porter spoke about how resilience in key industries such as construction and mining and certain 'mega projects' in those sectors had created a stabilising effect and highlighted efforts his government was making to boost growth in those areas.
He also flagged changing enterprise bargaining agreements as something "well worth looking into", arguing that they were one factor inflating construction costs in Australia that could be addressed.
Ms McManus began her remarks by stressing the importance of preventing a second wave of COVID-19 infections for workers and the economy.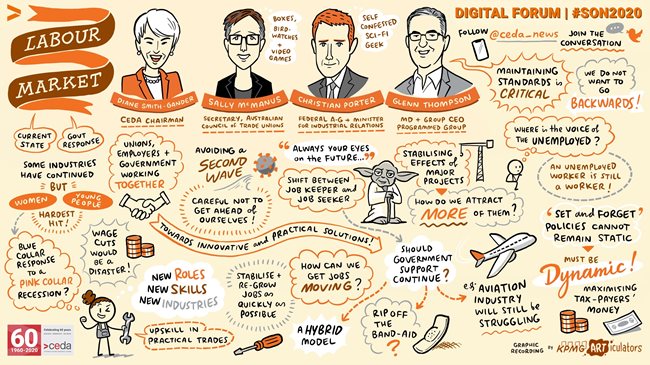 "We have to be careful not to get ahead of ourselves and think that it's all over so we can just go back to normal. There is really no normal until we have a vaccine. We don't want to be in a position where there is further damage to businesses, to jobs, to incomes because we don't put in place the things that we could put in place to avoid this," she said.
She said that Australia's response to the crisis has highlighted the strength of our industrial relations system.
"Our industrial relations systems responded quickly, efficiently and in ways where there was built in protections for workers. There has been a lot of temporary changes to laws and the Fairwork Act that allowed it to be able to respond to what are totally extraordinary circumstances while protecting workers," she said.
"We can see what a disaster it has been for places around the world that do not have those protections. There is no Jobkeeper or employment protections in places like the US and the results are terrible.
"The system will never be under as much strain under the last three months as it has been and the fact that it was able to respond and respond in a way that allowed unions and employers and the government to make that happen is something that we should be proud of."
When it comes to setting policy, Ms McManus said we should be careful not to conflate the crisis with the ordinary course of business.
"Three months ago the union movement believed that we had structural weaknesses in our system that we would like to see addressed. If we let these discussions get coloured or infected by the current situation we would then be building solutions that are really crisis solutions," she said.
"I accept what Christian said that everything is not just going to go back to normal…but at the same time the union movement really won't have a lot of patience if some employers come and say that they want changes because of the current situation and for those to be permanent into the future.
"We cannot bake in what will be in effect wage cuts or less rights for working people and hand those onto the next generation. It is something that we would not support and I don't think the country would support that either. It wouldn't be the way forward."
Ms McManus agreed that it is important to maintain growth in sectors such as construction and mining but said we shouldn't lose sight of the fact that young people and women "have been most hard hit".
"If our response to a pink recession is creating blue collar jobs, then are we really addressing what's actually happened?"
Ms McManus also said that the crisis had highlighted pre-existing issues.
"We have a strong belief that has unfortunately been borne out by the pandemic that we have had far too many insecure jobs in our country and that is a weakness for people and the economy," she said.
"Now that we are going to depend for quite a while on domestic spending and confidence in the economy going forward one of the key things will be making sure that people have confidence to spend.
"This goes to two things: If you are in a job you are going to need to feel that you can rely on it, and we should not go down the path of wage cuts – we believe that would be a total disaster for individuals and as a total economic response."
Mr Thompson agreed that it is critical that we "maintain standards" moving forward to prevent a second wave.
"A lot of the conversations at the moment are about creating jobs but the last thing we want to do is go backwards," he said.
Mr Thompson said that government needed to create the confidence for businesses to invest again.
"Creating demand and confidence right now is critical to get businesses investing again. The government stimuluses have been very welcome and I think large firms need to do their part by encouraging investment and taking advantage of stimulus packages and things such as instant asset write offs," he said.
"I have noticed more than ever before that this government is willing to listen and gather ideas from a broad range of outside parties which is terrific."
On the topic of ensuring unemployed people are represented in policy discussions, the panel highlighted the importance of skills development.
"I think part of the solution is getting more people in 'learn as you go' traineeships and create traineeships where there is a strong connection between the training and the job," Mr Thompson said.
On the topic of whether government support for business should continue going forward, Mr Thompson said that "there should be government support continuing for industries that are hard hit but at some point there has to be a ripping off the band aid."
Ms McManus said that the position the economy is in has made us "rely on governments to take the initiative."
"Governments are really the ones that can create jobs on a much bigger scale. For example, public sector jobs in regional areas where that is so important," she said
"We are going to need the government to take the lead to get us out of this as they have in other times when there has been big downturns.
"Jobkeeper is part of the role the government needs to play in terms of keeping jobs going. We certainly know beyond September that the aviation industry is going to continue to be hard hit.
"Sydney Airport (is) one of the largest employers in NSW is now a ghost town. That's not for any reason other than health reasons so in that case how can there not be continued support?
"The original idea of Jobkeeper was yes keeping people connected to their jobs so businesses could recover when they could…well it's clear that there are really going to be whole sectors of the economy that are still going to be in that situation come September."
Mr Porter said that while there is going to be a bigger role for government in the economy than we have experienced in the near past he says that the constantly changing situation means that "set and forget policies do not work very well".
"There is going to be a clear need for government involvement but something that Sally said rings in my ears and that's 'how do you make the best use of government money?'. If you are going to have an involvement how do you spend that money?" he said.
"There is going to be a range of areas where government has to make decisions where we use minimal resources to create the maximum effect of job survival and job growth but I think that's something that needs constant reassessment because it's very fluid."